Table of Contents
---
Introduction
Installation
Create a Web Story Post
Add story to element
---
Introduction
Webstories allow you to display your story in visual narrative form with fascinating animations and tappable interactions. Integrated with the Google web story plugin will give you an easy way to create beautiful and engaging content with a visually rich and intuitive dashboard.
---
Installation
to activate the webstories on your website you need to have the following plugins installed and active, you can easily install and activate these plugins from JNews Dashboard → Install Plugin:
2.1. Google Webstories, you need to install this plugin in order to create a web story post
2.2. JNews –  Webstories , you need to install this plugin in order to create webstories element, webstories element is an element where you can display your web story post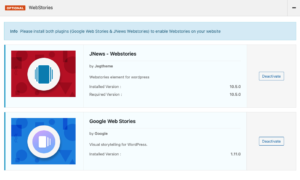 2.3. WPBakery or Elementor, you need this plugin to be able to add the Webstories element to your page. Choose one that is used on your website.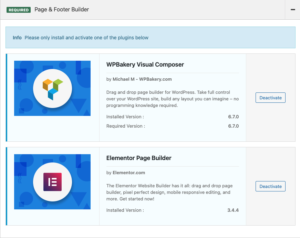 ---
Create a Web Story Post
to create a web story post please go to Stories dashboard in Stories → Add New

Stories Dashboard has these following key features
Beautiful and expressive page templates
Easy drag-and-drop capabilities
Convenient access to WordPress' media library
Customizable color and text style presets
---
Add story to element
after creating and saving your web story you can add it into Webstories element to display it to your readers, you can add the Webstories element via WPBakery or Elementor .
4.1. Adding Webstories Element via Elementor
go to the page where you want to add a webstories element and edit it using elementor
on Elementor search for Webstories Element and add it to your page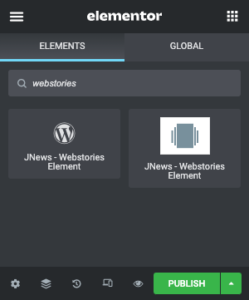 after you add it to the page, on the left side of the screen you will have section that contains settings for the webstories element, you can adjust your webstories element settings from the section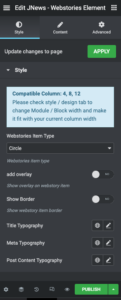 4.2. Adding Webstories Element via WP Bakery
go to the page where you want to add a webstories element and edit it using WPBakery
add new element and search for Webstories element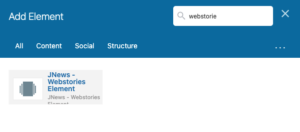 after you select the webstories element, webstories element settings will appear, from the settings you can adjust your webstories element settings there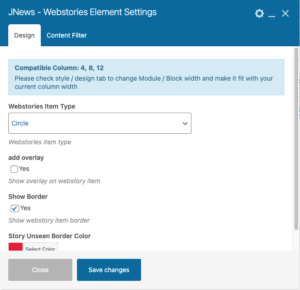 Created in Denpasar, Bali by Jegtheme. 2023