Installing JNews is quite easy. Basically installing this theme is almost the same as installing other themes. This part will guide you on how to install JNews for a few minutes only.
After downloading JNews package from Themeforest you need to extract those files, and then you will find a zip file with name jnews-theme.zip . This is the main file of JNews.

Common Installation Mistake
---
A common issue that can occur when installing WordPress themes is The package could not be installed. The theme is missing the style.css stylesheet error message being displayed when uploading or activating the theme.
One of the reasons you may receive this error is if you have uploaded the incorrect file. You have 2 options for downloading your theme as shown below.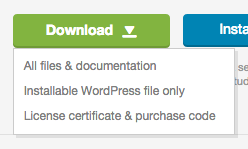 Installation via WordPress
---
Install via FTP
---
Activate License
Right after finishing JNews activation, please activate your theme license to receive all benefits from JNews such as theme updates, import content & style, and unlock all other features.
Please follow this link for more detail information.
Info
We highly recommend to check your System Status in order to make JNews would work as expected. You can find more complete information about system requirements for JNews by following this link.
Created in Denpasar, Bali by Jegtheme. 2023