To setup your Site Identity, just go to Jobplanet Dashboard→Customize Style→Site Identity
On this settings page you will find several options that you will need to apply in order to set up your site.
Site Title : Enter text for your site title.
Tagline : Enter text for your site tagline.
Site Icon: Enter an image with the dimensions 512px by 512px (recommended size). The site icon will be used as a browser and app icon for your site.
Site Identity Setting
---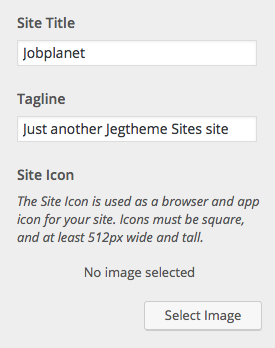 Site Identity You can also setup your Site Identity on the WordPress Setting → General.
Created in Denpasar, Bali by Jegtheme. 2023