As a thank you to our existing clients who have already bought and used some of our other themes, we've strived to include an extensive feature list on the initial version. Jobplanet includes an Initial Setup & Import feature, so you can access several of our demo previews on your site as well.
You can easily access the one click Initial Setup & Import feature from the WordPress Admin Panel→Jobplanet→Initial Setup & Import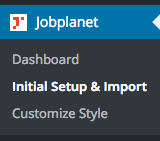 Initial Setup
We've provided an easy way for you to kickstart your website. By using the initial setup, you will only need to install what is initially required in order to begin working on your website. Provided are several options :
: Creates and assigns the pages you will need for admin operation.
Import Job Type : Imports Job Types like Fulltime, Contract, etc.
: Imports Popular Job Categories, so you have to create all job categories from scratch.
: Creates the job packages in WooCommerce Products, just like we have on our demo site.
Import Demo Content
Of course we have option to import demo content as well. you can create the same exact website as our demo site using this option. As a note, you don't need to worry if you use the import demo content feature more than once, our system will not create duplicate content.
Begin Importing Dummy Data Existing content will be overwritten if you repeat the import content / initial setup process.
Created in Denpasar, Bali by Jegtheme. 2023