There are few things worse than to discover that your hosting provider for WordPress is not up to your standards, especially if you are new in there. If you are in such a situation, using one of the many available WordPress migration services and jumping ship is a strong plan. Although it is not the only reason your site is being migrated, it is quite common. Over time, our favorite CMS community has developed several free and premium WordPress migration services to make this process as easy as possible. In this article, we will introduce you to three services (two free and one premium) and help you determine which service is right for you. But let's talk a little about WordPress migration and the most common reasons for that before we get to it:
What is WordPress Migration?
Simply put, WordPress Migration is the process of moving a WordPress system from one server to another server without affecting the functionality of the system. There are several reasons why you would like to go ahead with this, for example:
Moves to a better hosting service provider. It could mean anything better in this context-for instance lower prices or quicker load times.
Pushing the local WordPress website to the live server.
Moving the site to the main directory from the subdomain.
We are here to show you if you fall into any of these categories and you have put off migrating your website because of the complicated process. Let's look at three of the best WordPress migration services available.
The Best Free Tools for WordPress Migration
The following two free tools below are manual solutions for migrating WordPress site. Even though it's free, they are a solid solution if you feel comfortable moving your own website.
1. Duplicator – WordPress Migration Plugin

Duplicator
is a WordPress plugin which allows you to do two things. Create a copy of your website or duplicate it, and then install it elsewhere. You will find a new Duplicator tab on the WordPress dashboard after you have installed the plugin. This is where you create and manage your duplicates, and it's easy. Every new package includes an installer that allows you to install it elsewhere using a process that is similar to WordPress'
five-minute install
, without having to install the duplicator on your new site.
Main features
Provides a list of previous copies and allows you to quickly create new duplicates.
Scans your site before and after the whole process to make sure it works smoothly.
Create and upload scheduled backups to the cloud (via the premium version).
2. All-in-One WP Migration

All-in-One WP Migration
offers similar to Duplicator functionality, although with small differences. The functionality of the plugin is divided into three sections on its administration screen – Export, import, and backup. The first one allows you to create copies of your website, while the second handles uploads and the third provides a security net if your host doesn't play with large files well. Moving your site is as easy as installing WordPress on your new web server, setup and then use the Import feature.
Main features
Allows you to upload your copy via the dashboard or using the Backup option through the File Transfer Protocol (FTP).
Excludes some components such as themes and plugins from the migration procedure, if set.
Extensively tested in many popular hosting providers.
The Best Premium WordPress Migration Services
Unlike the free tools mention above, in exchange for a fee, the following WordPress migration services will take your hands off the entire process. This won't make them better than a free tool–it is just a matter of convenience and budget. Let's take a look!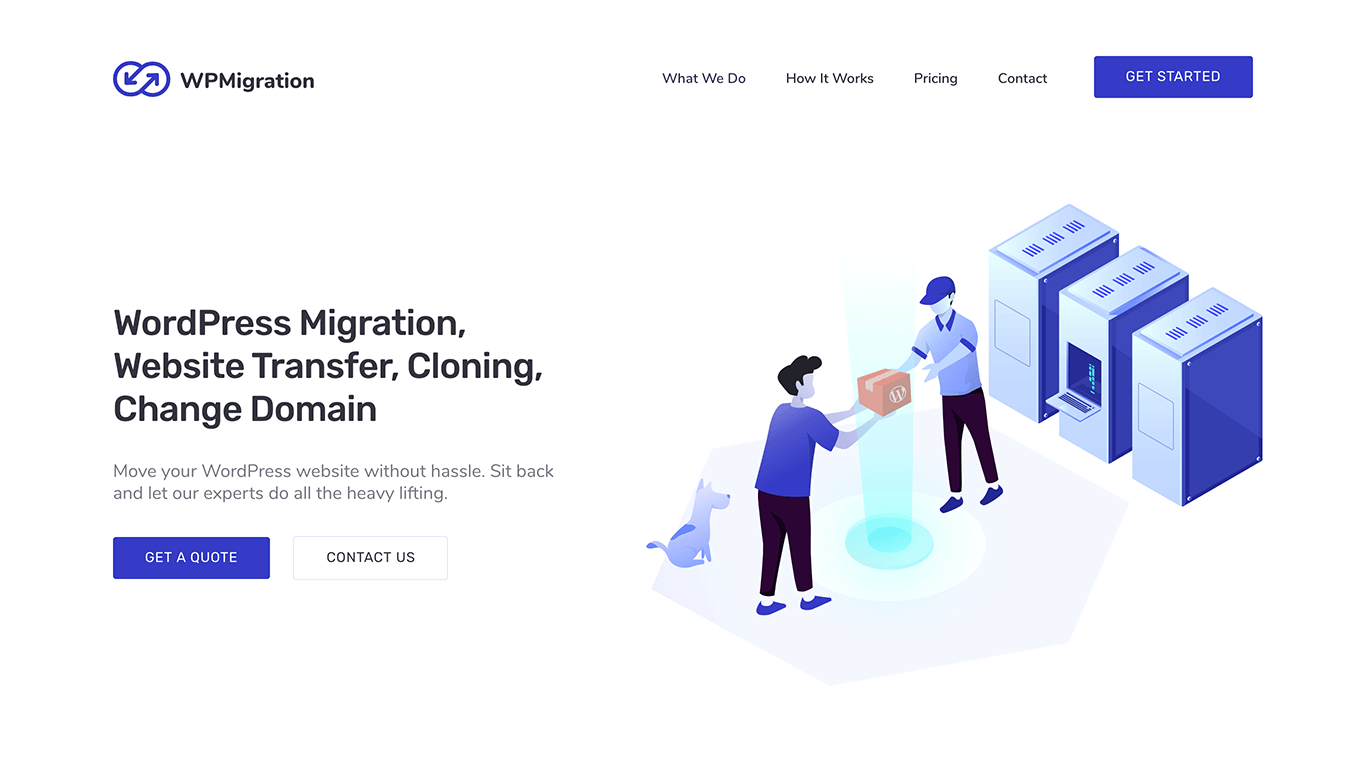 WPMigration is a company that is mostly dedicated to WordPress migration. They can even help migrate your non-WordPress website in some cases to self-hosted WordPress setup. In addition, they also provide an
additional service
including security monitoring, custom change services, Search Engine Optimization (SEO) audits and more. Basically, they provide a one-stop shop for WordPress users, who need all kind of support.
Why should you use WPMigration?
WPMigration is the perfect solution for users who are interested in receiving ongoing assistance for their WordPress projects and need a professional migration service.
Conclusion
WordPress migration is similar to moving to a new apartment – it doesn't have to be complicated, and you can hire people to do it for you, but it always presents a hassle. Fortunately, all the WordPress migration services that we discussed in this post are very good at doing their task. Let's recap:
Duplicator (free): Tool for making and moving copies of your website, including diagnostic processes.
All-in-One WP Migration (free): This tool allows you to migrate WordPress sites from your dashboard directly.
WPMigration (Needs consultation): This migration service is a premium solution for all types of services related to WordPress.