You may like to create food blogging site, but even having Master Chef skills is helpful but it's not all you'll need. Your viewers don't just want to know what you made, they want to know how you made it as well, and more importantly, how they can make it too.
In this case, then creating a food recipe is the best way you can serve those dishes up to your audience. You don't need to worry, with JNews we've provide powerful feature to insert food recipe into your post.
On this part, we will guide you how to use food recipe feature with JNews that only take a few minutes.
JNews Food Recipe Plugin
---
To enable food recipe feature on your website, you just need to install JNews – Food Recipe plugin. You can easily to install and activate this plugin from Plugin Dashboard by go to JNews Dashboard → Plugin
Insert Food Recipe
---
Right after you've done with the plugin activation, next you can insert food recipe into your post. You can follow the instruction below :
First, go to edit certain post on your website that you want to insert food recipe.
If you've been select a post, then at the bottom section you will notice JNews : Food Recipe Setting metabox.

As you can see the image on above, you will notice there're several options on Food Recipe Setting tab.

Enable Food Recipe
Turn on this option if you want to enable food recipe for the post.
Food Recipe Title
Insert the title of food recipe.
Serving Size
Insert serving size of food recipe. (ex: 10 people)
Cooking Time
Insert cooking time of food recipe. (ex: 2 hours)
Cooking Level
Determine cooking level of food recipe. (ex: beginner)
Enable Print Recipe
Turn on this option if you want to enable print the food recipe.

After have done with Food Recipe Setting setup, next you can click Food Recipe Ingredients tab. On this part you can insert ingredients of the food recipe.
You can simply add ingredient item and remove certain item (ex: 3/4 cup sugar). You also can rearrange the ingredient item sequence as you want by drag and drop the item.

Food Recipe Preview
---
The following attached images below are the food recipe and food recipe print preview.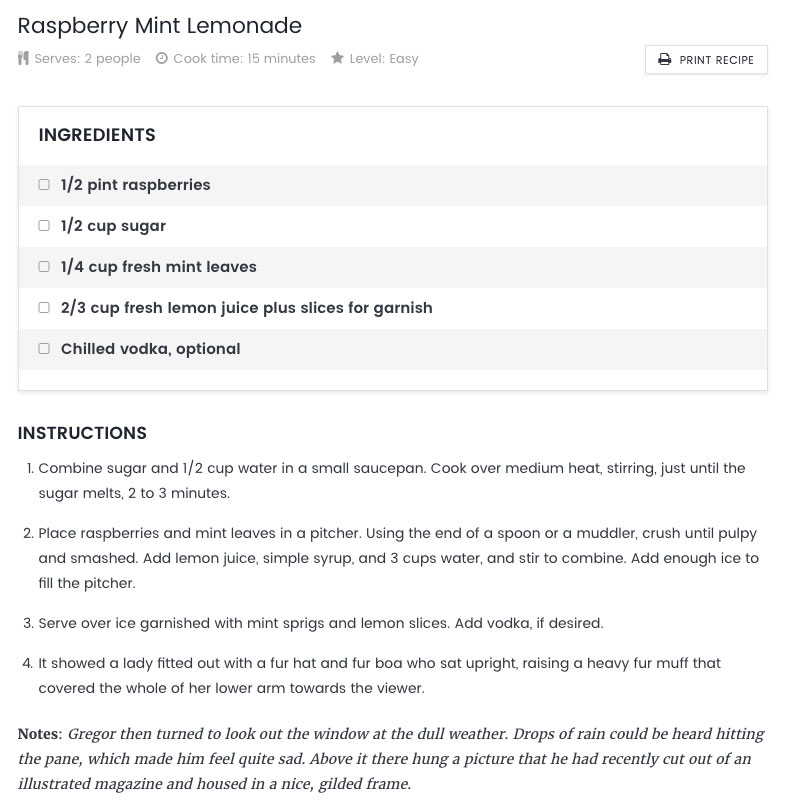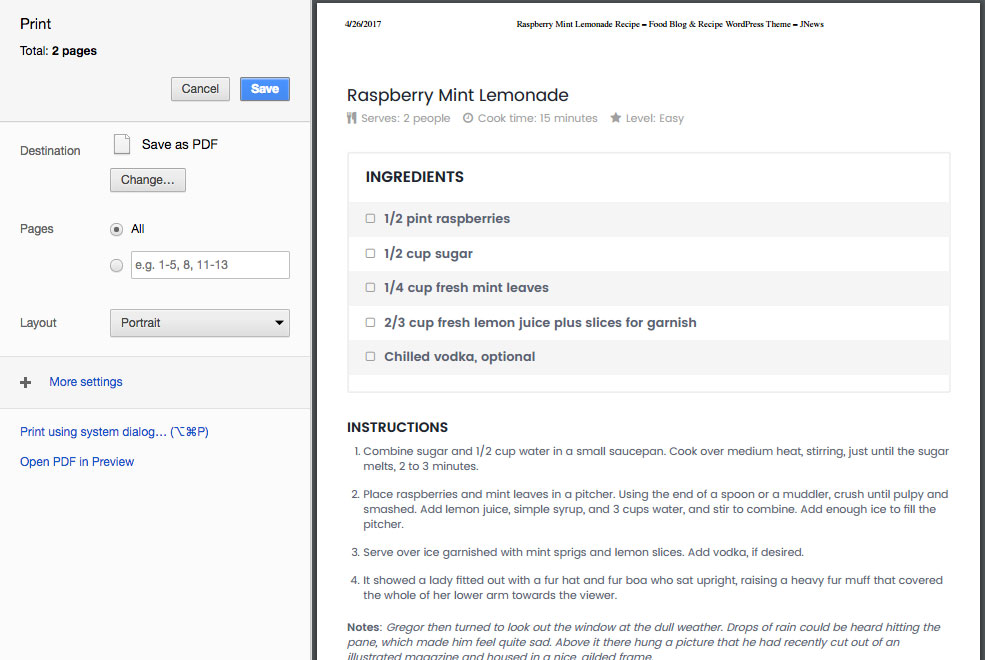 Created in Denpasar, Bali by Jegtheme. 2017